Date/Time
Date(s) - 10/26/2022
3:00 PM - 5:00 PM
Location
Florida Firearms Academy - Tampa
Categories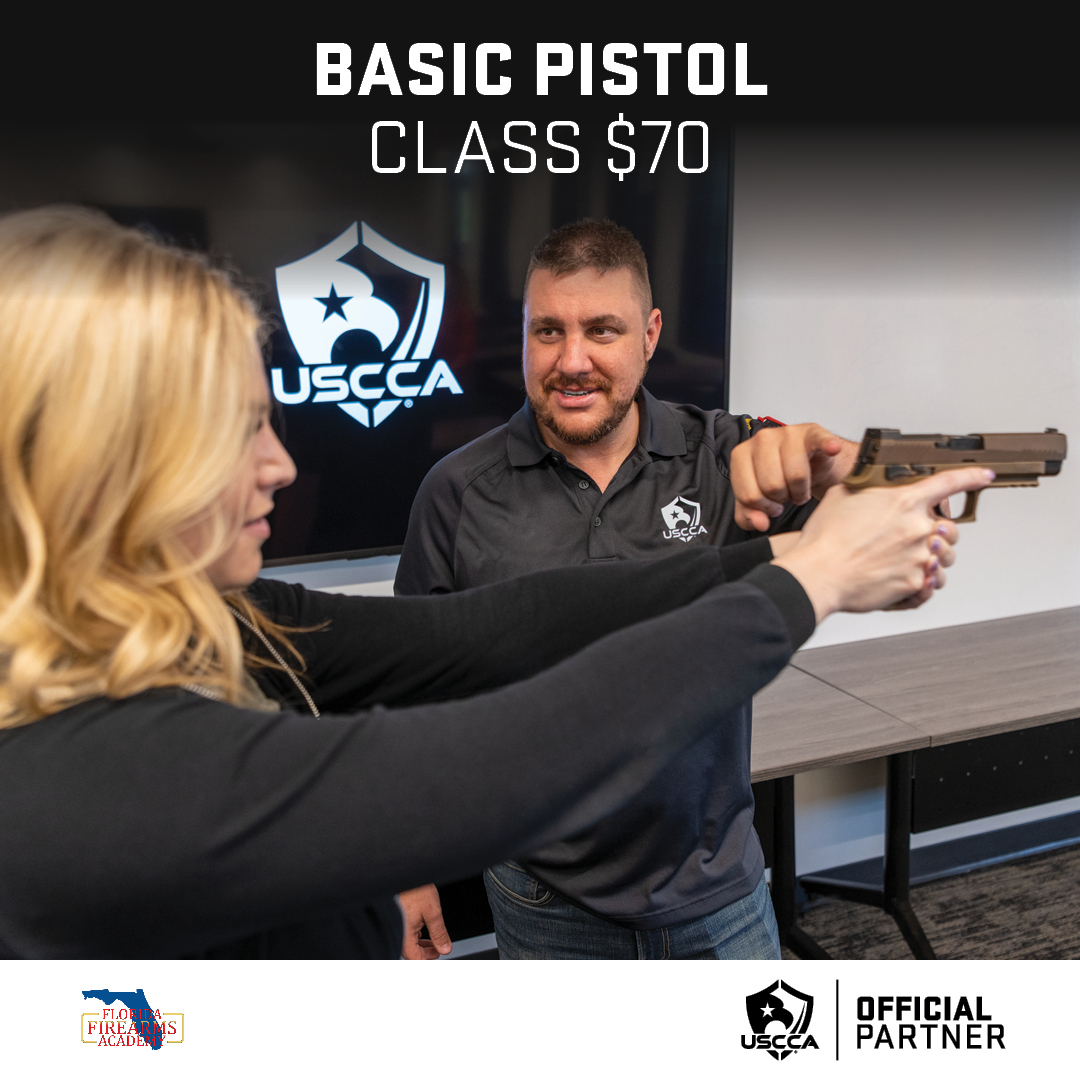 Florida Firearms Academy's Basic Pistol Class is the Foundation of handgun training. This class is intended for those who have limited to no experience with firearms, or those who want to invest in their time and focus on building fundamentals. We will spend time in the classroom, covering Firearms Safety, Range Safety, Gun Anatomy and Operation, Handgun Fundamentals, Loading and Unloading, and then spend an hour on the range. We encourage our students to fire at least 20 rounds at this level. We will provide safety equipment, targets, rental firearms, and waive your range fee. This class is taught by a Certified Instructor with Florida Firearms Academy's Curriculum. You may use a certificate of this class as proof of completion of a firearms safety class to apply for your Florida Concealed Weapons and Firearms License; although, we highly recommend that you attend our Concealed Weapon Permit (CWP) Course before you carry a gun.
Course Includes everything you will need including firearm and ammunition, however you may bring your own firearm and ammunition if you wish to do so.
Course Fee
Includes
Firearm Rental
Ammunition
Range Fee
Eye and Ear Protection Rentals
Target
Class
Course Learning Points
Gun Safety.

range safety.

Range etiquette.

How to safely handle a firearms- Load, unload and make a gun safe.

Techniques – grip, stance, trigger control, sight picture, and sight alignment.

Ammunition.
A 22 pistol and ammunition is included. If you want to rent another higher calibered pistol at a cost of $5 extra dollars you will also need to purchase ammo for that other firearm.
If you are having issues signing up for a class or are attempting to sign up for a class on the same day, please call 813-221-3473 to check for availability.
Reschedules & Refunds: We do not offer refunds on classes, We do allow every student to be able to reschedule once, if they call the store at least 2 day prior to the class
Bookings
Reservations are closed for this event.